Our connection with Tangle Tower began on 2014 when my parents purchased what we now know as Tangle Tower. My father (along with many others) had admired this gem of a property for years, and when it eventually came onto the market he needed no prompting, he placed a bid which was accepted.  The building had been left in a state of disrepair after its elderly owner had sadly died. For years the building stood empty, perhaps it proved too expensive a project during the years of recession that had prevailed, or maybe the immense size of the project put some people off? Whatever the reason it was feared locally that a large company would purchase the space and flatten the old building.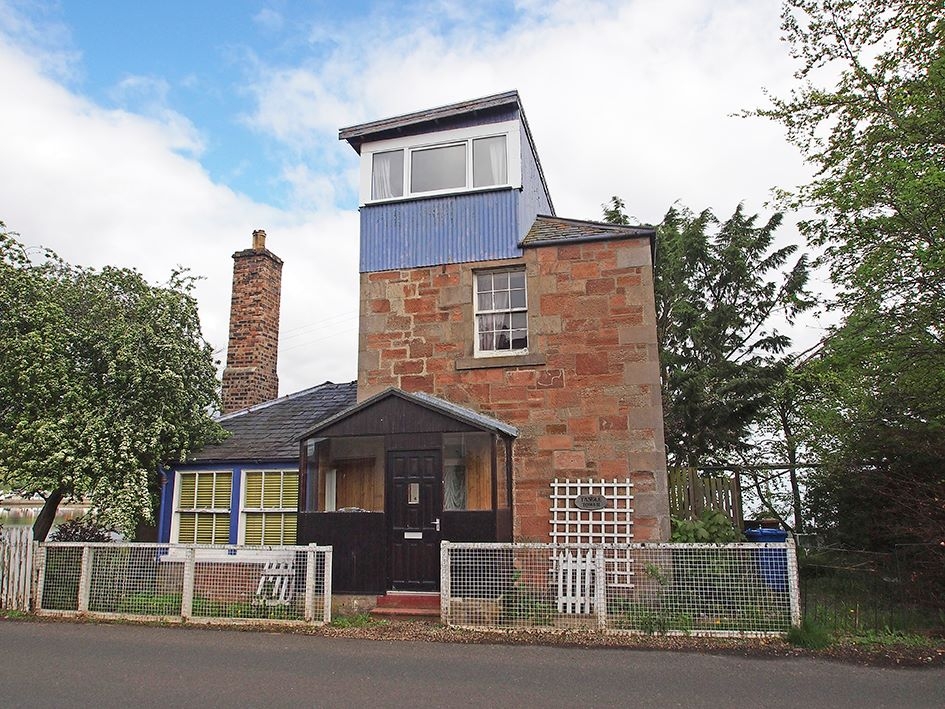 Work began almost immediately, the family (and a few friends) were called in and the work began. After what seemed like months of clearing, demolishing, burning, scrapping and cleaning and endless runs to the local tip and a visit from the local fire brigade along the way! We finally had an empty building and grounds, now the real work could begin. Drawings and plans previously put together could now come to fruition.
Over the coming months builders and tradesmen frequented the building and slowly but surely the property as we know it started to come to life. Local residents would often pop over, offering tea, coffee and nibbles to keep us going (which were much appreciated given the first few weeks we had no heating or proper electricity!) Often they would stand and chat, recalling their memories, many from childhood, of the Tower and its previous owners.
We planned to keep many of the older features and incorporate them within our new interior. This included the original stairway and handrail (up to the first floor),the red sandstone wall in the living area and bathroom and the flagstone flooring in the stairwell / hall area, we even (eventually) re-used bricks that originally created the floor in the ground level to make a path in the garden! Unfortunately lots of pieces were past saving, our biggest disappointment was the old Victorian train carriage that had sat in the garden for almost a century…Initially we had hoped to save at least part of it to use as a sheltered seating area in the garden, this was however not to be, despite our best efforts it was too dilapidated to save. After it had been demolished a resident contacted us with this picture and short piece of info: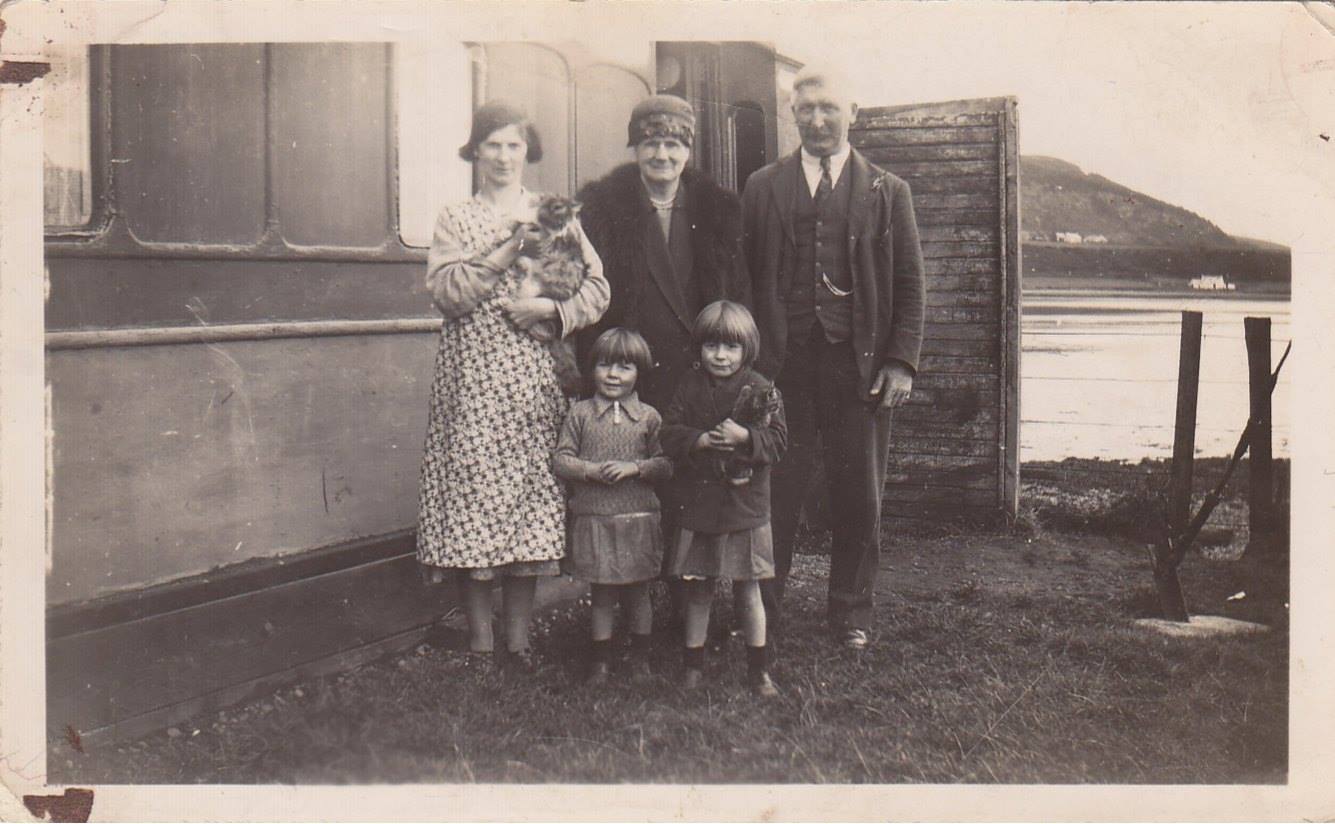 " My mother was born here in 1933… well, she was born in the railway carriage which was still in the garden until fairly recently. At that time it was called Aird Villa. Her family (my grandparents) lived in the railway carriage, but moved into the house when the previous tenants vacated it. My mother died in August 2014, and just days later the old railway carriage was dismantled and disposed of. The new owner has made a lovely job of the house, my mother would have loved it. The carriage is in the background of this photo. My maternal grandmother is on the left, with her parents, and two of her four daughters (my aunts) in the foreground."
Mid 2015 the new interior was gradually coming together, we had new walls, windows, under floor heating and oak flooring through-out. The kitchen had been fitted, along with the major appliances, new windows, new cladding and a wonderful zinc roof! The stonework had been re-pointed, the garden weeded, with a high fence now gave privacy to a large sized garden. The triple garage was up and usable (despite it showing on Google Earth as two builders standing in the foundations!).
It was now time to begin painting and dressing the rooms. This was where I came in. We all agreed to incorporate the seaside theme, therefore, calming tones, with textural elements and one or two quirky nods to the history of Tangle Tower in the form of antique collectables.
Six months later and we were ready to go! The transformation was amazing, looking back at photo's now I find it hard to imagine how it evolved, but it did and we are certainly very pleased with our hard work.   The top floor now has uninterrupted panoramic views and doubles as a third bedroom with a large sofa-bed, therefore sleeping up to 6. Dolphins and seals as well as a multitude of birdlife can be viewed from the top floor, and there is plenty to see given the Merkinch Nature Reserve being at the end of the street!
The second floor boasts a double bedroom with beautiful antique furniture, painted in cool calming tones and crisp white luxurious bedding.
On the ground floor you will find a large bathroom kitted out with a huge shower, roll-top bath and luxurious towels. Alongside an airy living area with BT television and WIFI which leads onto a large kitchen diner, boasting all the mod-cons, including a dishwasher, fridge, washing machine, coffee machine and much more. Leading from this you will discover a large double bedroom with a king-size bed, again furnished with antique furniture. You can exit the exterior of the building via both lower floor bi-fold doors onto a patio area which overlooks the beach and the Moray Firth and with a private garden either side it is ideal for barbecues.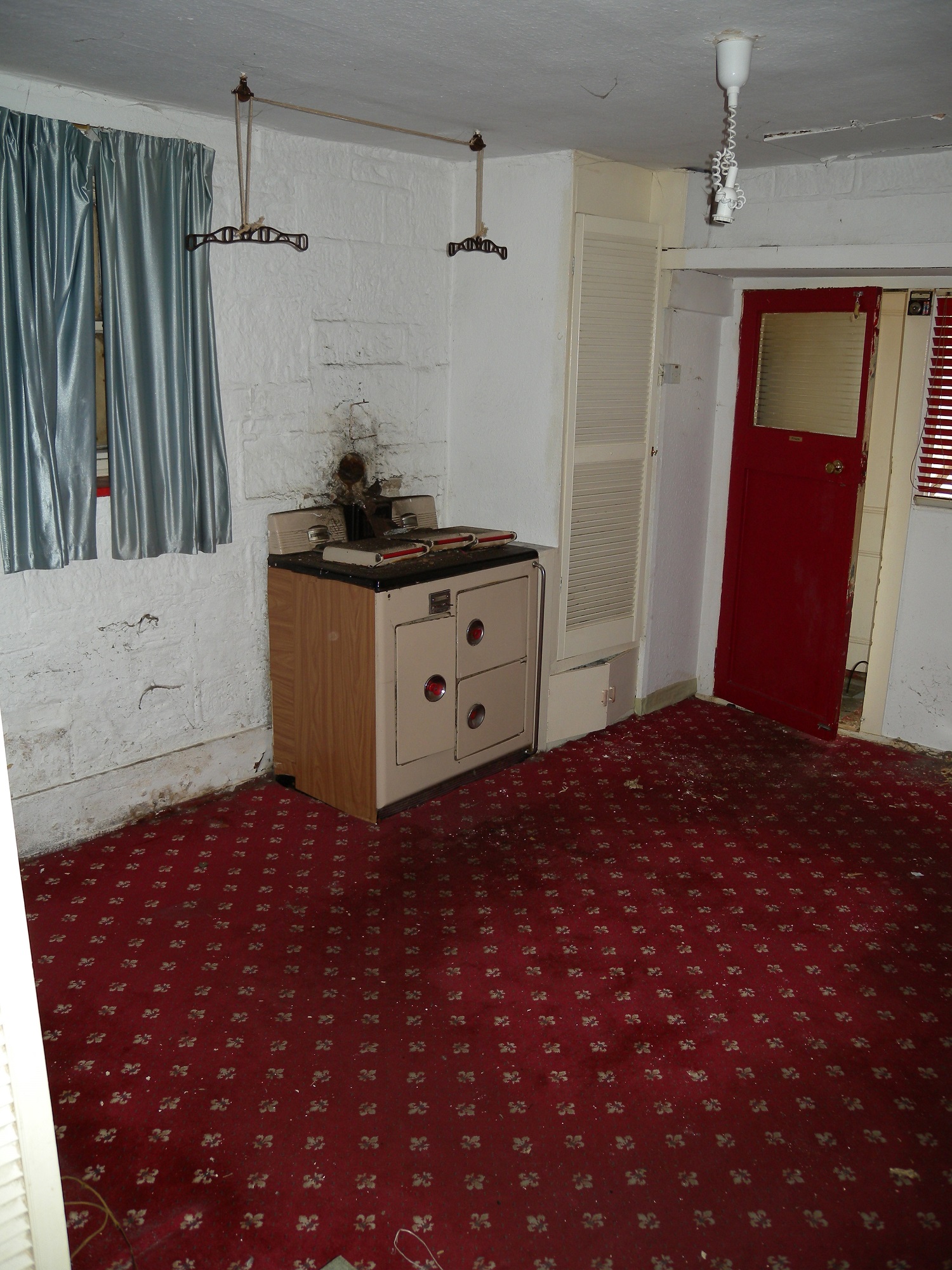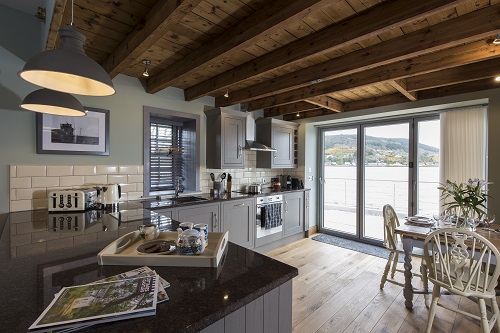 There is parking for one just by the front door with additional parking in the triple garage, where you will also find a barbecue and garden furniture if the weather warrants it.
Needless to say, this project was epic, and had a few pitfalls, one of which landed my father in hospital! But it has not deterred us and we are currently searching for our next "family" project! So watch this space! For now we proudly introduce you to our Tangle Tower and trust you will enjoy your stay.