Being the only city in the Highlands, Inverness has a number of visitor attractions in and around the area. If you're tired of the hotspots and are looking for somewhere a little out-of-the-ordinary to visit, perhaps you should give one, or all of these places a try…….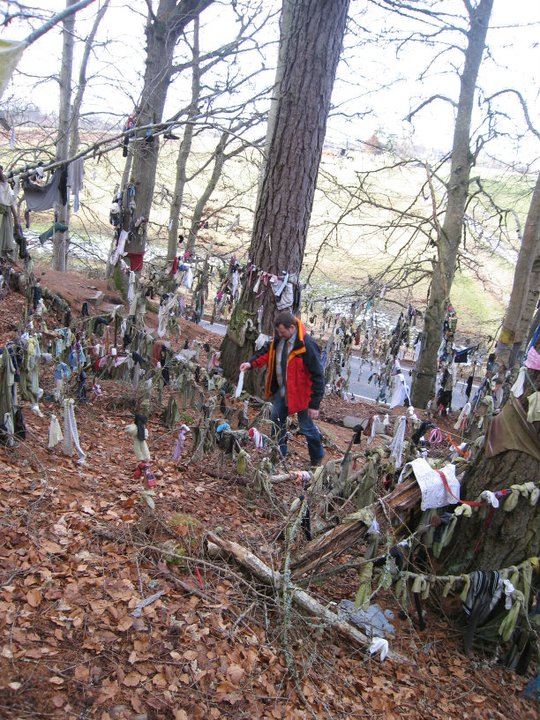 Munlochy, Clootie Well.
The "Clootie Well" a healing well at Munlochy on the Black Isle may bemuse travellers who pass it on their travels along  the A832 from Fortrose to Cromarty, an eerie sight will catch your eye. If you know nothing of this magical place it'll definitely take you by surprise, it is well worth a stop.
In Scot's "Cloot" means a rag, strip of material, patch or garment.
Clootie wells are relatively rare, usually only found in Celtic nations. They are wells or springs, usually with a tree growing alongside, you will find an assortment of garments or rags left, tied to the branches of the trees surrounding the well, unmissable as you drive past this particular well.
In pre-Christian times is it said that a goddess or local nature spirit inhabited the well, they possessed special healing powers. Later in Christian times these where replaced by a Saint, in this case the well is dedicated to St Boniface (he is the patron saint of Germany and the first archbishop of Mainz. He was born in the kingdom of Wessex, today Devon, England and was killed in Frisia, Germany in 754).
There are many traditions relating to the rags being tied to the trees surrounding the well, but the most popular belief is that if you or a relative are ill you must tie a piece of rag to one of the trees after dipping it in the water of the well. It is said it will aid the recovery of the ailing individual.
There is an ample sized car park with a short walk up to the well, can be wet underfoot.
Leakey's Bookshop
If it is a bit miserable outside, or perhaps you fancy a bit of retail therapy or maybe just sometime out to relax, a must to visit is this wonderfully quirky bookshop, I'm sure you wouldn't be surprised to bump into Harry Potter or one of his companions there; he certainly wouldn't seem out of place!
Found on Church Street, Inverness, Leakey's has been housed in the old Gaelic church for the last 20 years. Est. in 1979 it is Scotland's second largest second-hand bookshop with 100,00 selected volumes. The enviable collection has been built up from all over the Highlands taking over 30 years to accumulate.  It is a building full of atmosphere and character, a great place to lose an afternoon.
The Fairy Glen
The fairy Glen is located in a beautiful wooded area in Rosemarkie, easily found if taking a trip over to the beach.
The glen is wooded with Beech, Rowan, Ash and Oak and is at its prettiest during the spring when you will be met with a carpet of bluebells and primroses.
The walk is a two mile track and is fairly easy underfoot though there are some steep parts. You will take a relaxing trail past an old mill pond which is at least 200 years old and you will view two waterfalls. The trail is maintained by the RSPB so keep a keen eye open for some of the native birdlife, including Grey Wagtails, Dippers and Buzzards.
As with many of the Highlands natural attractions Fairy Glen is steeped in local folklore. An old tradition during the spring was for local children to decorate a pool with flowers – this was said to ensure the fairies kept the water clean. There is also a "money tree" which has a number of coins hammered into it, meant as an offering to the fairies.
From the Inverness direction, proceed through Rosemarkie village, passing the Plough Inn on your right and round the sharp left bend. After approx 150 m, you will see the car park on the right.
Clava Cairns
Clava Cairns was built around 4,000 years ago and were built to house the dead.
Located only a short distance from Culloden battlefield this astounding prehistoric burial site would have once been part of a larger complex, now only three parts remain, only two are accessible to the public and are open all year round.
There little is known about who the cairn builders were, as no documentation was left at the site, it is however clearly Bronze. This is a profoundly atmospheric place that does not receive as much attention as it deserves.
Set within a beautiful spot within a small wood, Balnuaran of Clava comprises:
two passage graves
a kerb ring cairn
a central ring cairn and standing stones
Milton of Clava, a short distance to the south-west, includes:
the remains of a medieval chapel
the remains of another cairn and possible standing stonesFind Clava Cairns 6 miles east of Inverness, signposted from the B9091, approx 300 yards east of Culloden Battlefield.
Car park available.
The three well preserved cairns at Balnuaran each have a central chamber but only two have entrance passages. Each cairn is surrounded by a ring of standing stones, and look closely at these stones, you may notice many have cup marks on them, suggesting they have been reused, perhaps from another earlier sacred site.